Lakeshore Big Band
The Lakeshore Big Band has been entertaining audiences throughout West Michigan for over 25 years, developing into one of the area's finest concert and dance ensembles.
Based in Spring Lake, MI, the LBB is a full-size (17 piece) traditional big band. The music they perform comes from a large library of tunes from the early days of jazz to present day, including great hits from the big band era by Glenn Miller, Duke Ellington, Count Basie and more, as well as contemporary jazz, ballroom dance and popular music.
In addition to frequent weddings, dances, parties and fundraisers, the group has made regular appearances at summer concert series throughout West Michigan and has been a regular feature at the summer dance series at the Grand Haven Waterfront. Highlights have included an appearance at Muskegon's Summer Celebration and the Association of Concert Bands annual convention.
Upcoming Events
Grand Haven American Legion
5/21/2016
7:00 - 10:00 p.m.
Open to the public; alcohol sales available for members only. For info regarding joining the Legion call 616-842-5310
Private Event
6/2/2016
Walden Green Montessori School


Spring Lake Heritage Festival
Senior Swing Dance
7:00 - 9:00 p.m.
6/13/2016
Spring Lake Holiday Inn
West Michigan Wine & Jazz Festival
7/4/2016
8:00 - 10:00 p.m.
Pre-fireworks display performance at Montague Band Shell


Private Event

7/9/2016
St. Mary's Catholic Church, Spring Lake
U.S.S. Silversides
Monday Night Concerts

7/25/2016
6:30 - 8:00 p.m.
U.S.S. Silversides Museum, Muskegon

Grand Rapids Jazz Fest
8/21/2016
2:30 - 3:30 p.m.
Rosa Parks Circle
Dancing on the Grand
8/3 and 8/24/2016
7:00 – 9:00 p.m.
Grand Haven Waterfront Stadium
Private Event
9/23/2016
Town Club Dance
Trillium Conference Center
Grand Haven American Legion
10/8/2016
7:00 – 10:00 p.m.

Joint Appearance with West Michigan Concert Winds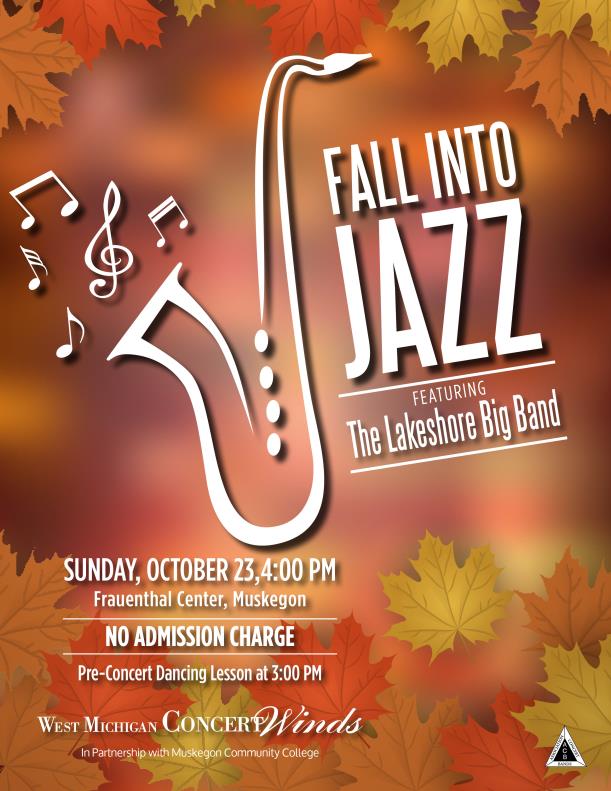 Sunday, 10/23/2016
4:00 p.m. concert - No admission charge,
with a pre-concert dancing lesson at 3:00 p.m.
Frauenthal Center, Muskegon